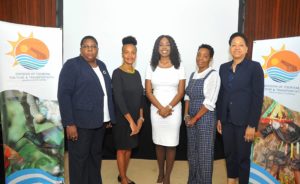 Tobago needs the support and collaboration of various sectors to ensure the island's heritage is preserved.
That's the view of Secretary of Tourism, Culture and Transportation Nadine Stewart-Phillips. She was speaking at the Tobago Heritage Consultation Symposium, hosted by the Tourism Division on Monday (May 27, 2019) at the Mt. Irvine Bay Resort.
The event provided a platform for discussion among tourism stakeholders. It allowed some of the sector's avid supporters to share their knowledge and experiences on issues related to culture, heritage and tourism. Secondary students were also invited to participate.
Stewart-Phillips said preserving, sustaining and promoting the island's rich culture and heritage requires continuous research, networking and collaboration.
"Our guiding theme today, Sankofa, encourages us to examine our historical past in order to provide solutions for today's unique cultural dynamic," the Tourism Secretary stated. "This is as we remain committed to ensuring that Tobago's product."
The Tourism Secretary said the creative and cultural industries were viable income generators and contributed to the island's gross domestic product.
Key themes discussed included how the creative and cultural industries can fulfil Tobago's economic diversification goals and objectives, the role of festival tourism and festival management to Tobago's economy, and traditional and contemporary art forms.
The morning sessions were presented by sector specialists including Dr. Suzanne Burke. Round table discussions were held in the afternoon and facilitated by some well-known members of Tobago's cultural community.
Information gathered from the symposium will guide the creation of a policy guideline document, which will be used as an implementation document for future festivals.