Tobago House of Assembly's Colours
The official colours of the THA are blue, green and yellow:
Blue – representing the sea around us
Green – representing the verdant green of the vegetation
Yellow – representing the sun which energises our people as it radiates light and warmth
Tobago House of Assembly's Crest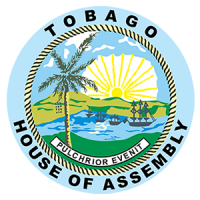 The Coat of Arms of Tobago (1816), with the addition of appropriate colouring was first adopted as the Assembly's Logo or Crest, but over the years, there were further adaptations to both design and colouring made by persons using the Logo for various reasons.
The Executive Council of the Assembly, in an effort to standardise the Logo, examined the variations in use and decided to accept as official, the coloured version of the Tobago Coat of Arms (1816) originally accepted, but with an additional band encircling the whole and bearing the words "Tobago House of Assembly," as to facilitate ready identification of the symbol without interfering with the integrity of the emblem as previously adopted.
This crest is now the Crest / Logo / Emblem to be used on all official stationery, flags and other memorabilia, with effect from 1 December, 2003.
Tobago House of Assembly's Seal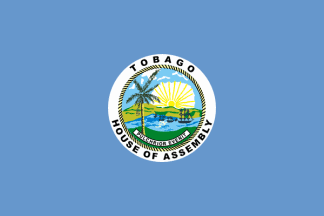 The THA Act requires the Assembly to have a common seal. For this purpose, the Flag Badge of Tobago (c1830), with the words "Tobago House of Assembly" encircling same, has been chosen.