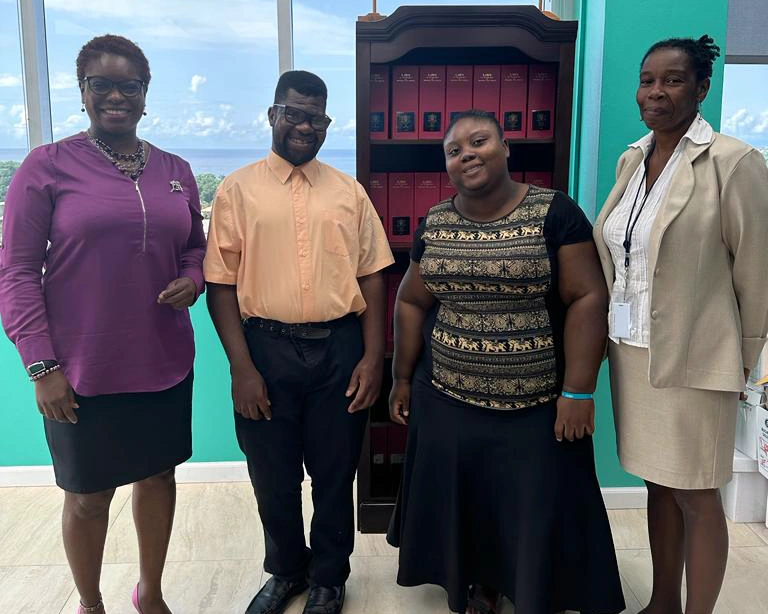 The Division of Health, Wellness and Social Protection (DHWSP) is leading the way towards a more inclusive society.  This policy of inclusion shot to the fore with the engagement of two Interns from the Division's TechVoc Centre.
From August 2nd, 2023 Simeon Williams and Chelsya McKenzie started their journey with the Division and have been assigned to the Registry and Accounts Units for the remainder of the holiday period.
DHWSP Secretary, Dr. Faith B.Yisrael, had this to say: "We are building the island that we want to see; one where everyone has an equal opportunity to lead a better life.  This experience we trust will be very valuable to them as they maneuver through life.  We are happy to have them on board and wish them every success during their time at our Head Office."
Dr. Mona Dillon, Manager of the TechVoc Centre said, "It is important to provide opportunities for exploring the strengths of persons with disabilities as this increases the likelihood for independent living and meaningful integration into society.  Providing just that for these students is another step in the right direction."
Simeon and Chelsya are both elated to be part of the DHWSP team and expressed their gratitude.  Simeon said, "I feel very good and excited.  Meeting new people, using the copier and carrying files to different departments on my first day were the best parts," while Chelsya indicated that, "I always wanted to work and I am glad that I have the chance to do it."
The Technical Vocational Centre for Persons with Disabilities (TechVoc) is one of the many units within the DHWSP network.