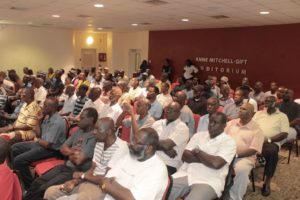 More than 300 men attended the May 27-28 Prostate Cancer Seminars at the Scarborough Library and Betsey's Hope / Louis D'Or Multipurpose Facility respectively.
The seminars highlighted the need for testing, which will ensure early detection and treatment.
"Prostate Cancer should be a priority for all persons in Trinidad and Tobago," Health Secretary Dr. Agatha Carrington said. adding that once men are affected by prostate cancer, the entire family is affected.
Men in attendance were encouraged to get screened early to decrease the high incidence of prostate cancer in the Caribbean region.
Consultant Urologist at the Eric Williams Medical Sciences Complex Dr. Darren Bissoon was the event's main presenter. He spoke about prostate cancer, and particularly prevention, screening, and treatment.
The seminars were held by the Division of Health, Wellness and Family Development in collaboration with the Ministry of Health (Health Services Support Programme), UWI St. Augustine Researchers, T&T Chapter of the Caribbean Academy of Sciences and the National Union of Government and Federated Workers.