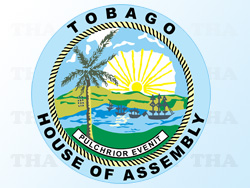 The Tobago House of Assembly will meet in a special sitting on Thursday 20th October 2011 to debate the proposed provisions to revamp the relationship between Tobago and Trinidad.
Speaking at the post Executive Council media briefing on Wednesday, (28th September 2011) Chief Secretary Orville London said, contrary to the submission of some critics, the Assembly will be considering two separate Acts presented by the Tobago House of Assembly appointed Committee. They are "An Act to amend the Constitution to provide the entrenchment of certain provisions relating to the Tobago House of Assembly and related matters," along with "An Act to repeal and replace the Tobago House of Assembly Act Chapter 25.03, to provide for the re-establishment of the Tobago House of Assembly, to prescribe its powers and functions and related matters." The documents were laid at last week's plenary sitting of the House of Assembly.
London stressed that the Acts represented the views and recommendations of the widest cross section of Tobagonians and he hoped that the upcoming debate will not be dominated by political partisanship.
The proposed amendments to the Constitution and the Tobago House of Assembly Act will give the Assembly the "power to make laws for the peace, order and good governance of Tobago." The Assembly will also be responsible for all functions relating to the administration of Tobago, except for the eleven functions retained by the Central Government.
The Constitutional amendments proposed that "for any financial year, Tobago's share of the national budget should be no less than eight per cent. The island of Tobago is redefined according to international convention and there are further proposals related to the eligibility of persons who wish to qualify both as electors and candidates in a Tobago House of Assembly election.
It is also proposed that the "Assembly shall have the authority to borrow both on the local and international markets for capital expenditure."
The session on Thursday 20th October is expected to get underway at 10.00 a.m. and there should be a packed gallery for what some observers consider as the most important debate in the history of the Assembly.