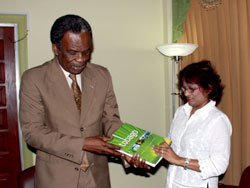 This country's newly appointed Consul General-Designate to Toronto, Dr. Vidya Gyan-Tota-Maharaj has the tall order of encouraging greater airlifts to Tobago from Canada, a request she graciously accepted. Following a meeting with Dr Gyan-Tota-Maharaj and Secretary of Tourism and Transportation, THA Chief Secretary Orville London said Tobago has the tourism capacity and product. However, "the challenge is to have a reliable airlift", he added.
The THA officials also requested that there be an officer at the Toronto Consul designated to deal specifically with Tobago's needs. This person would communicate directly with THA Chief Administrator Dr Ellis Burris.
Visitor arrival statistics (excluding visitors that travel to Tobago via the domestic air and sea-bridge) from the Division of Tourism indicate that 173 Canadians visited Tobago in 2010. There were 72 persons from January to July of this year. Williams said: "Canada is indeed a lucrative market and therefore it holds hope. We have some work to do in terms of the airlift and other-related matters. But I feel confident that working together we can achieve success."
If there is a direct flight from Tobago to Toronto, this will be a fillip to the THA's efforts to extend its North American tourism market. Earlier this year and following talks with Caribbean Airlines since 2010, the airline reintroduced a direct flight from Tobago to New York. Williams has reported that the once-a-week flight has been very successful.
The THA has also worked hard at improving airlifts to the island from the UK, Germany and Scandinavia.