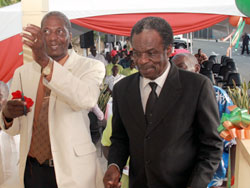 The Tobago House of Assembly is moving full speed ahead with its plans to beautify the Capital – Scarborough. As of Monday (26th September 2011), the taxi stand along Carrington Street was relocated to Lower Castries Street. The new stand has 25 parks and a new building to house all three taxi associations which operated at the old stand.
THA Chief Secretary, Orville London, told the taxi drivers that development always comes with a price. He said the process took long because the Assembly felt it necessary to persuade drivers that the move was best. He said the THA tried to be sensitive to stakeholders even as it continued to develop and transform Tobago.
One driver said he favoured the change. "I welcome the move. It is a step in the right direction and I look forward to greater development", Dexter Henry of the Taxi and Owner and Drivers Association said. Henry however asked that the Assembly take the necessary steps to prevent drivers who are not members of any of the three associations from using the new stand.
The relocation of the stand is just one of the enhancement projects underway in Scarborough.
The connector road between the Claude Noel Highway and Garden Street is expected to be opened in the next two weeks, according to London. He said enhancement of the fishing facility had started and the THA continue discussions with property owners between Dutch Fort and Sangster's Hill for construction of appropriate buildings on their land. Two of the five building deemed as unsafe by the Assembly had been demolished. London warned: "Those that do not demolish we will do for them, at a cost of course".
The Scarborough Port is scheduled for an additional face lift. By year end, an "attractive" transparent fence will replace the current one and a board walk will be constructed. Also a number of Tobago artists had been commissioned to paint murals along that Gardenside wall.
As he did in July when the illegal structures in Scarborough were demolished, London stressed that beautifying Scarborough goes beyond demolition of buildings. It has to do with "improving Scarborough, beautifying Scarborough and making Scarborough more functional so that people in Scarborough can derive optimal benefit", he said.
With this in mind, London urged the taxi drivers to find ways and means by which they can be a little more innovative and make their service a little more attractive so that they can benefit.
Newly appointed Secretary of Infrastructure and Public Utilities Hilton Sandy praised former Secretary Godwin Adams and his assistant Gary Melville for their work on relocating the stand. Sandy told the drivers that the THA could have simply advised them that the stand should be moved. But the Assembly felt it necessary to partner with the associations by constructing a new building "because of the service you do for people and the service you provide for the tourism sector".