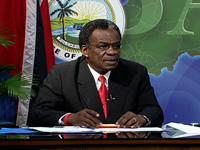 Everyone who has received a plot of land from the Tobago House of Assembly will have a house built on it.
The THA-owned Courland Estate would be the first site for the promised service plot housing development, THA Chief Secretary Orville London disclosed at the post-Executive Council media briefing on Wednesday. (28 September 2011). London told reporters that the Executive Council had approved the process for providing plots to meet the housing need of deserving people in Tobago.
The Assembly is taking care to ensure that houses would be built on all plots distributed., since "giving land to people does not always translate to houses" London pointed out, The THA has had to reassign plots that were given to persons over 30 to 40 years ago, but which are still vacant to this day.
Both the Division of Infrastructure and Public Utilities and the Division Settlements and Labour are expected to play a major role in this project. London said they would be responsible for all infrastructure works including roads, electricity, water, telecommunications, waste treatment and drainage.
Already the Division of Settlements and Labour has made a request to the Housing Development Corporation for affordable housing designs. "We will try to develop smaller service plots In other words, instead of the five or 10,000 square foot we might look at three or 4,000 and design houses so that at the end of the day they can be affordable", London said. Further to this, the Division along with the Land Management Unit will also ensure that all the Town and Country and Environmental Management Authority approvals are obtained.
The THA would take the process a step further by making a formal arrangement with the Trinidad and Tobago Mortgage and Finance Company or any other approved financial institution so that qualifying individuals could access funding to construct their homes. London said the newest addition to the THA's housing package opportunities is meant to help meet the challenge of providing housing to about 6,000 applicants.
He said the Assembly cannot build houses for all the deserving people in Tobago. This initiative will therefore take away some of the actual responsibility of constructing homes.
Earlier this year, the Division of Settlements and Labour in partnership with the First Citizens Bank launched the Young People Home Ownership Programme. Then Secretary of Settlements and Labour Whitney Alfred had said this initiative would give young people 35 years and under the opportunity to save towards owning their own home.