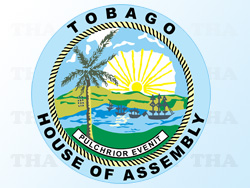 Winners of the Eric Williams Foundation Memorial Committee's national "Portfolio Competition" take off on a one month health education binge.
Mason Hall Government Primary School is staging one month of activities promoting healthy living.
This programme comes on the heels of the school winning the Eric Williams Foundation Memorial Committee's national "Portfolio Competition" – "Dr Eric Williams, his life and times".
THA Chief Secretary Orville London said the month of healthful living shows the principal and teachers to be visionaries and committed to translating vision into reality. The vision, according to Principal Samuel Charles, is that the school will continue to promote the all-round development of each pupil and even top the Secondary Entrance Examination in the country.
Charles said pupils should be taught about good lifestyle choices when young so that they can make right choices as adults. He added that already some of them are being negatively affected by poor lifestyle choices of some family members.
In the first week of the programme, the Nutrition Unit of the Scarborough Regional Hospital would be screening staff and students for chronic illnesses. Dietary technician Darren Hinds said the Unit had been engaged in a Nutrition Education Programme in schools across Tobago. He noted that it was important for students to know about diet and its impact on health. Adding, that they had partnered with Parent/Teacher Associations to change children's environment, including change in items sold at schools' cafeterias.
Speaking at the launch of the programme on Tuesday (27th September, 2011), London told the pupils: "It is never too early to start healthy living. After all that is being said in the next four weeks, it is going to be all about choices. You are never too young to make good choices".
Parents and teachers he said must set good examples. "You cannot tell a young person that you have to ensure that you make the right choices in your little world and you make the wrong choice in your not so little world."
School Supervisor Ronald Duke praised the initiative of the principal and staff. He said the programme was a "creative and ambitious way of bringing to life the 'Health and Family Life Curriculum' of the syllabus".
Aerobic exercises will also begin in the first week and will take place on each Friday evening.
Week Two will be one of spiritual emphasis. There will be presentations from various religious leaders and a religious concert. Facilitators from the Division of Health and Social Services will teach the pupils sex education and about drug abuse, healthy relationships and dengue and other diseases in Week Three.
Mental Health will be the focus in the fourth week. The pupils will also learn about HIV/Aids and illegal drugs and police officers are expected to join them during this week.
The programme will culminate with the school's annual walkathon against the "harmful effects of drugs, HIV/Aids, crime and violence" on October 26. Screening and testing for community members will be available.