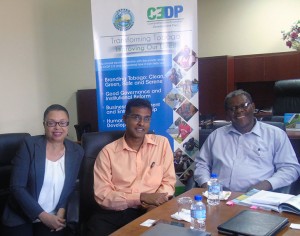 Tobagonians can now see waste as a viable option to make more money. This is the belief shared between officials of the Solid Waste Management Company and the Comprehensive Economic Development Plan Secretariat (CEDP), Tobago House of Assembly (THA), who met today (Monday 26 October, 2015) at the CEDP office, Main Street, Scarborough.
Ronald Roach, General Manager of Operations and Gisele Telfer, Public Education Administrator, (SWMCOL) met with Dr Elton Bobb, Coordinator, CEDP Secretariat, on branding Tobago Clean, Green, Safe and Serene. The topic is the first of eight strategic priority areas as outlined by the CEDP to be implemented islandwide.
The SWMCOL team gave its commitment to assist the THA in establishing its brand – Clean, Green, Safe and Serene, as the island is primarily dependent on tourism. Roach highlighted critical areas for immediate review and action including public education, waste segregation, waste management at the Studley Park Landfill, modifying waste collection systems and commercialising waste. He added that potentials exist for companies to deal with the sargassum weeds that invade the island's beaches.
Telfer stressed that the public must be on board for waste management projects to be a success. She also said these plans can only become reality when systematic models are set and infrastructural needs are satisfied.
Dr Bobb was delighted to have the team and emphasised the need for the development of waste management businesses on the island. He expressed thanks to SWMCOL for their willingness to partner with the THA to effectively manage waste in Tobago.
Later this week, the CEDP will host community meetings to inform the public of its goals and benefits that can be attained. The community meetings will take place on Thursday 29th October, 2015 at the Betsey's Hope Community Centre and on Friday 30th October at the Hampden / Lowlands/ Auchenskeoch Community Centre. Both sessions start at 5 pm.