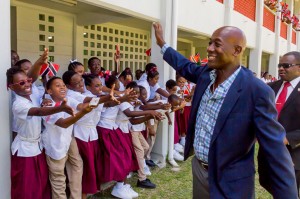 Prime Minister Dr. Keith Rowley's first official visit to Tobago since his election was the homecoming most would have expecting, and perhaps even a bit more.
After traveling to the island on Thursday (October 22), the Prime Minister made his first stop on Friday morning to his alma mater, Mason Hall Government Primary, where he was met with heaping adulation.
But the biggest surprise came when he was reintroduced to Hermina Yeates, his former teacher at Mason Hall Government Primary, who he said "taught me how to write". Coincidentally, both Dr. Rowley and Yeates share the same birthday, yesterday (October 24), when the Prime Minister turned 66, and Yeates, 81.
The Prime Minister was thoroughly entertained by a lively speech band performance, while the school also honoured him with a welcome poem, a steelpan rendition of inspirational song "You Raise Me Up", and the singing of "Let the Flowers Bloom Again". Neighbouring Mason Hall Secondary also lent their voices with a chorale speaking act.
The first smile from the Prime Minister came when one speech band performer said: "the more he walked barefoot, the brighter he get", referring to Dr. Rowley's early school days when he walked to school at Mason Hall Primary.
The school also took, the time to sing Happy Birthday to Dr. Rowley and Mrs. Yeates.
The Prime Minister urged the students to take advantage of free education, which he had done at the same primary school.
"You one day might stand up here as the prime minister of Trinidad and Tobago," he said.
Referencing a humorous line from the school's speech band about his eligibility for old age pension, Rowley said the nation's children are the reason he has a strong desire to serve the country.
"I want to do something more for those who depend on me and my collegues in the political arena…it is out of a sense of duty and gratitude because it is people like Mrs Yeates and her colleagues who ensured I got the opportunity to become the best that I can be," he said.
In his remarks, Secretary of Education, Youth Affairs and Sport Huey Cadette said the thing Mason Hall Primary can be most proud of is that a Prime Minister has emerged, not from a "town school, not a school that everybody talks about". He urged teachers, principals and communities to work together to ensure Mason Hall continues to produced outstanding citizens.
By the time Rowley moved on to Bishop's High School, his former high school, the celebration only heightened further.
The Prime Minister will end his official two-day visit on Monday, when he attends a special sitting of the Tobago House of Assembly (THA) at 10 a.m., and later that evening from 6.30 p.m., a cocktail reception in his honour, hosted by Chief Secretary Orville London at the Victor E. Bruce Financial Complex, Scarborough.