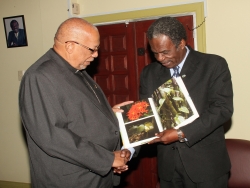 Port of Spain Archbishop Joseph Harris is making his first official visit to Tobago since being named to the position.
One of his first engagements was a courtesy call on THA Chief Secretary Orville London at the Calder Hall Administrative Complex. The Archbishop was scheduled to celebrate the Eucharist at a Mass last Saturday at the St Joseph RC Church, Scarborough starting at 6.30 p.m.
Following the 30-minute meeting London said they had very wide ranging and fruitful discussions relating to the role the Catholic Church played and can continue to play in the development of Tobagonians, especially young Tobagonians, as well as the challenges and opportunities in that particular area. He said all churches had a very significant role to play because there were things they can do and must do even better in the development of an island that politicians and the Assembly cannot do.
Discussions also covered the role of the Catholic Church in education, the proposed construction of a new Scarborough RC School and the Assembly's plans to restore historic buildings in Scarborough including the well-known Ark which was previously used as the residence of the St Joseph Parish Priest. London said the Archbishop gave his commitment to the restoration project.
Archbishop Harris said upon his appointment he took the position that he was not only Archbishop of the island of Trinidad but of Trinidad and Tobago. "One of the things I firmly believe is that we are not talking of a relationship of independence but inter dependence and therefore as a church we can learn from Tobago just as Tobago can learn from us. That means of course that we develop with the church here a true partnership not just with the church alone but with the people of Tobago, a true partnership in which were are equal, that we share with each other the gifts of the riches that we have and we help each other to overcome the difficulties also.
He said while here he will meet the people to listen to their problems and to see how the Church can help them and how they can help the Church and together build a stronger Church which will be to the service of the nation.