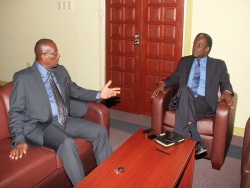 A one-hour meeting between Art and Multiculturalism Minister Winston 'Gypsy' Peters and THA Chief Secretary Orville London yesterday (Monday 5th March 2012) failed to reach agreement on whether there is going to be a second Carnival in Tobago this year.
Both agreed that the meeting was very cordial and was conducted in an environment of mutual respect and understanding.
However, Peters said he had plans later in the day to meet with stakeholders who did not include representatives of religious bodies whose members had voiced their disapproval of a second Carnival in Tobago. He said he was not organising a Church event and did not see the need to meet with them.
London told a media briefing after the meeting at the Calder Hall Administrative Complex in Scarborough that at the end of the exercise they were not disagreeable but agreed to disagree. He said he had outlined to the Minister the myriad reasons why he did not believe that a second Carnival in Tobago was a good idea at this point in time while the Minister reiterated some of his issues.
"At the end of this exercise we understood each other's position but could not come to any common ground that would either allow him to convince me that we should have a second Carnival or me to convince him that it was not appropriate at this point in time but I must say that I did appreciate the quality of the conversation and the kind of environment in which the conversation took place. I am not certain of what happens going forward," London said.
Peters said his discussions for the past year were to have the second Carnival or to have the reinstatement of the Tobago Fest which was stopped seven years ago. "Suffice it to say we couldn't find any common ground to what I want happen to happen, but we agreed to disagree.
He said he was disappointment in not getting the agreement of the Chief Secretary and it was only after meeting with the stakeholders he will be able to find a way forward. "I am saying that no door is ever shut in this whole process, we must find a way to continue negotiations or find a way forward or find a way to stop."