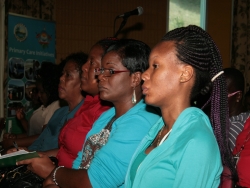 Extended hours of health care for the disabled is just around the corner as the Division of Health and Social Services (DHSS) seek to bring healthcare and social care to the homes of people who are physically challenged.
The Division has plans to develop a program that brings healthcare and social care to the homes of people. It has established a Community Social Services Unit which will bring a community social service worker to every district on the island. Workers will be stationed at healthcare centres and community offices. In addition, the Division is in the process of extending the hours of care at the enhanced health centres.
In a continued effort to deal with the problems of the differently abled, DHSS held its second consultation to encourage caregivers and the disabled to voice concerns, complaints, and suggestions on how to improve the system of assistance.
DHSS Secretary Claudia Groome-Duke told those in attendance that it was their ideas and needs that had impacted the consultation. She said staff members were able to come up with ideas that would help treat the needs of the disabled based on the first meeting.
In reference to the available assistance offered by DHSS, Groome-Duke said the Division was tightening the process so persons would not have to move from one place to the other to get the necessary support.
She indicated that the Division would be coordinating the necessary services. "But first we must identify the services you require and the services that you need. As you know, we are about to open the new hospital, and in doing so, we are looking at the services that are not available to Tobago right now. We're looking to start off with diagnostic services, those that are not available in Tobago at this time. Your information really helps us for those medical services that are required."
The Division was in the process of looking for a soundproof building where there was no challenge with sound. The audience was told trained healthcare workers will be visiting homes to discuss what healthcare services were needed for persons disabled. "We want to meet you where you are," Groome-Duke said.
Representatives from various organizations were present, including the Trinidad and Tobago Association of Hearing Impaired, Drechi, and the Division of Settlements and Labour. Tracy Ann Anthony, Director at the Division of Settlements and Labour, spoke about the Home Improvement Grant and Home Improvement Subsidy, and how persons could access the fund.
Groome-Duke indicated that the Division would be meeting the immediate needs of persons with disabilities while a broad policy was created since one size did not fit all. The Administrator of the Division of Health and Social Services, Ethlyn John, said: "I trust that we will all benefit from today's proceedings."
The consultation included a panel of healthcare workers and an information desk from various sectors.