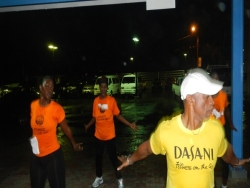 Despite  inclement weather, the Events Committee of the Office of the Chief Secretary held its Second Annual Aerobics Burnout Competition at the Administrative Complex Carpark (March 1, 2012) in order to promote health and wellness. The exercise session was open to all Tobago House of Assembly employees and the general public.
The aim of the event was to promote healthy living through a combination of physical, mental, and social activities. The Chief Administrator, Dr. Ellis Burris, opened the session with brief remarks. Participants were led by instructor Mr. Soloman Joseph and heard the music of DJ Mighty Krush.
Asha Williams was the first place winner, Aleecia Hector won second place, and Karen Lovelace came in third. Dyon Virgil won for best male participant and Cynthia Smart won for the longest standing oldest female.
There was a thirty percent increase in this year's exercise participants.
Sponsors of the event included Bmobile, Pennysavers Supermarket, D#1 Hardware, Deborah Melville Guy Catering Company, Jerry Ali at Fun Fun Entertainment, Woodwork Center , YATS Marketing, and Jesus Makes the Difference Supermarket.
The event was spearheaded by Chairperson Corrine Powder, along with Vice Chairperson Nikisha Frank. The Aerobics Burnout Competition was one of several events the Committee has scheduled for 2012.