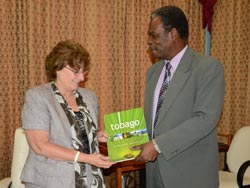 THA Chief Secretary Orville London hopes that through improved communication the Tobago House of Assembly would greater benefit from the vast resources and the capacity that exist within the Pan American Health Organisation (PAHO).
Speaking after a meeting with PAHO Director Dr Mirta Roses Periago, London admitted that the THA and PAHO had indeed developed a good relationship over the years but added: I think that we were able to ensure that the communication process is improved and to identify those areas that we think in the short term PAHO will be able to give assistance to the Assembly.
Dr Roses Periago called the meeting a very fruitful exchange where they decided on activities that they were going to take in the near future for planning and articulating Tobago's specific needs into the PAHO work plan for Trinidad and Tobago. She added, "we are also reviewing the situation of the health services and what is going to be the coming commissioning of the new hospital and how this will require special support from PAHO. We will explore and plan accordingly so that it is also a successful inauguration."
In the same token Roses Periago commended Director of the Health Promotion Clinic Dr Raymond Noel and his staff on their work with discordant heterosexual HIV positive couples in Tobago and for winning the PAHO Award in their category. She said the work of the clinic was "important because it is work that is not frequently done in the region regarding the situation of discordant couples".
She said even as PAHO recognises the successes and best practices this particular year for International Women's Day, this type of work is heartening as the region aims to eliminate syphilis and HIV transmission from mother to child, by 2015.
"At least in these parts you know we are protecting the children and next generation from transmission and also protecting the women, helping them to protect themselves and also cure them as much as we can with existing instruments. I think that this is also a welcome contribution", the PAHO Director said.