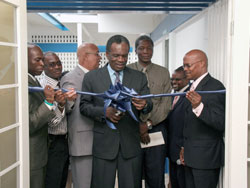 The Ministry of Health has confirmed that Tobago's mortality rate was the lowest in the nation, Tobago Regional Health Authority (TRHA) CEO George Bell disclosed on Tuesday.
He said the ministry's statistics revealed that Tobago's rate in 2008 was 1.8 per cent, the Eastern Regional Health Authority was 2.4 per cent, Northwest Regional Health Authority was 2.4, North Central Regional Health Authority was 5 per cent and South West Regional Health Authority was 2.8 per cent.
He further disclosed that in 2009 TRHA's rate was 2.2 per cent, ERHA was 2.7 per cent, NWRHA was 2.4 per cent, NCRHA was 5.2 per cent and SWRHA was 2.9 per cent.
Bell made the disclosure at the opening of the $.1 million Roxborough Health Centre Walk-In Service on Tuesday while alluding to statements made by Education Minister Dr Tim Gopeesingh at a sitting of the Joint Select Committee of Parliament last week Wednesday that he was afraid of getting sick in Tobago because he may die before getting to an aircraft. Gopeesingh had also claimed that some 21 out of 1,000 patients at the Scarborough Regional Hospital die, which was an alarmingly high rate and well above the accepted world rates.
Bell stressed that Tobago was certainly not a place to be afraid of when you are ill.
TRHA Chairman Keith Charles disclosed later that the response time of the Emergency Health Services (EHS) was 14 minutes while in Trinidad it was 31 minutes, adding that the international standard was 20 minutes.
The Walk-In Service will be open from Monday to Friday between 8 a.m. and 4 p.m. to cater for persons who needed medical attention but did not have an appointment at the nearby Health Centre.
In delivering the feature address THA Chief Secretary Orville London described the opening of the service as part of a process that will enhance healthcare delivery in the island. He said one area the Assembly, the Division of Health and Social Services and the TRHA has done well was the provision of facilities. He said where the provision of services was concerned Tobago's 55,000 people were better served than any landmass in the region and defied anybody to challenge this. He said there were four outreach centres and 17 health centres, two of which were top class and can be considered hospitals in some parts of the region.
He said the success of the facility depended on the quality of the service provided and urged Tobagonians to challenge the health system. He said there was an aspect of the health centre which was under-rated and that was how to inform and sensitise the public.
London lamented that people in Tobago were not taking care of their health and said: "Too many of us are losing our legs, too many of us suffer from hypertension, too many of us (with all due respect) are too fat and too many of us are playing with our lives.
"I want to see more people exercising in a health centre than coming to get hypertension medicine, I want to see more people coming to get diet sheets than to get things for diabetes," he added.
London said every individual who worked for the Assembly must be subjected to criticism and to scrutiny by the people of Tobago. He urged Tobagonians not to generalise or use headlines to judge a category of workers. "Too often we use headlines to judge a whole category of workers and condemn a whole group of people including those who work hard and including those who work reasonably well," he said.
The Chief Secretary stressed that the majority of doctors and nurses were professionals who were committed to the service of the people of Tobago. He said Tobago might not be doing well as it should, but in the context of Trinidad and Tobago it was not doing so bad after all.