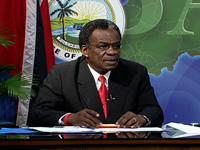 The County Medical Officer of Health (CMOH) Tobago Dr Carlene Radix has expressed grave concern about the health and safety of the inmates and officers at the Tobago Prison facility in Scarborough.
This was disclosed by THA Chief Secretary Orville London in a letter dated March 22 2011 to National Security Minister Brigadier John Sandy reminding him of his commitment to deal urgently with at least four issues of security in Tobago, the prison facility being one of them.
He told Sandy that it was evident that, not only should the construction of the new prison facility in Tobago be "fast tracked" but that, in the short term, measures should be taken, either to relocate the prison or to enhance the facilities at the present venue, as a matter of urgency.
The THA Chief Secretary also reminded Sandy that the process for the construction of police stations at Roxborough and Old Grange had been suspended to facilitate a review of all arrangements. However, London said, after more than nine months, there is still no information on the projected start and completion dates for these critical projects.
London said in his letter that during his last meeting with the National Security Minister, he had given the assurance that he would have intervened to have the Assembly Police Bill and the Bill to provide for "Regulation of the Marine Sports Activity in Tobago and for incidental matters" placed on the Parliamentary agenda for urgent debate.
He added that the passage of these Bills is critical if the Assembly is to manage its resources and develop the island effectively. He said the Assembly is now powerless to counter the abuses of jet skiers whose antics continue to endanger the safety of bathers at Pigeon Point and other venues.
The fourth issue raised by London was the continuing complaints of fisherfolk from a number of communities throughout Tobago about the theft of boats and engines, and the confrontation with fishermen from other countries, fishing illegally in the country's territorial waters.
In closing he told Sandy that the delay in treating with these and other important issues is undermining the security thrust in Tobago and he was therefore requesting an urgent meeting with him and his officers to discuss these issues in greater detail and effect speedy resolution.