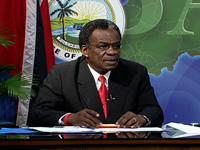 The Tobago House of Assembly on Thursday unanimously passed a motion to present a Tobago Medal of Merit and a hierarchy of awards designed to recognise and reward the outstanding contributions and achievements of Tobagonians, at various levels.
In presenting the motion at a one-hour plenary sitting of the Assembly, THA Chief Secretary Orville London disclosed that Cabinet had accepted a THA recommendation to name Crown Point International Airport, the ANR Robinson International Airport. He said the Assembly now has to put the arrangements in place to give effect to the decision. The recommendation went to Cabinet following the acceptance of a motion by the Minority Side last year.
London noted that over the years, a number of Tobagonians had received awards from various units of the Assembly for outstanding contributions and achievements. However, he said, a review of the system of determining awards by units of the Assembly was required and a hierarchy of awards needed to be established.
He stressed that in this review, provision should be made for the introduction of a special category of award which should be bestowed for highly exceptional service.
London said the programme of activities in commemoration of the 30th Anniversary of the Assembly was a most appropriate time to introduce this award.
He said the Assembly has planned a series of other events to mark the anniversary including a Tobago history month, sporting activities, swim meet and a special issue of stamps which will go on sale on April 1 2011 in the denominations of $1.00 (THA Legislature Building), $2.50 (Englishman's Bay), $3.75 (St Patrick's Anglican Church), $4.50 (Fort King George) and $5.25 (Goat Racing).
London said a way must be found to honour Tobago's crème de la crème and people at all levels must be shown appreciation, adding that this was about the THA honouring and appreciating its own.
In his contribution to the debate, Minority Leader Ashworth Jack said the Minority Side supported the motion in principle. He said the motion was indeed necessary and did not wish to question the timing however he had some concern with its contents.
"How do we identify who is a Tobagonian?" he asked. Jack said what the motion sought to do was laudable but "how it intends to get there is questionable". He said he was concerned that it made no mention of an independent panel to select the recipients. "What is the criterion to be used, who is to determine who gets an award," Jack said.