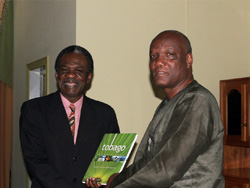 Two newly appointed diplomats for this country got their international shopping lists for Tobago in a recent meeting with THA Chief Secretary Orville London and Secretary of Tourism and Transportation Oswald Williams.
The pair, Ambassador/Permanent Representative-designate to the United Nations, Geneva, Therese Baptiste-Cornelis and Consul General-designate to New York Rudawatee Nan Ramgoolam were presented with a special "Tobago shopping list".
The items included assistance that will advance the THA's efforts to expand Tobago's North American, German, Austrian and Scandinavian tourism markets. Williams noted the need for improvement in Tobago's room stock and said: "I did hear talk about investment, certainly we welcome any assistance that will come in that particular area".
Both Ramgoolam and Baptiste-Cornelis pledged to give the unique needs of Tobago special consideration.
Speaking to the media at the Administrative Complex on Thursday (18 August, 2011), Ramgoolan said: "While we have sold Tobago there is still a lot to be sold". She added the positioning of Tobago will take close collaboration, understanding its needs, building bridges and bringing investments.
Ramgoolan explained that she will be taking to New York two shopping lists – one for T&T and one for Tobago.
"I promise you, recognising what Tobago has to offer in terms of its niche market, its uniqueness, I will be pleased, on behalf of Trinidad and Tobago, to sell this beautiful twin-island of ours, and particularly Tobago", Ramgoolan she added.
Baptiste-Cornelis believes that she is one of the people who could put Tobago on the map. She explained that the United Nations (UN) offers Tobago immense capacity in terms of programmes and facilities that can allow the island to expand. In a move of assurance, the Ambassador told the THA officials "whatever you need, I am there in Geneva to facilitate you".
The diplomats possess particular skills and experience, London said which equips them to take up their new positions. He added that he is confident that they will not only make the country proud but also take up the Tobago cause.
It was only on Monday (August 15, 2011), that Chairman of the Tourism Development Company (TDC) announced plans for representatives to market Trinidad and Tobago as a tourist destination overseas. Canada, USA, UK, Germany, Scandinavia and India were the territories mentioned. He said consideration was also being given to appointments of tourism/cultural attaches at Embassies.