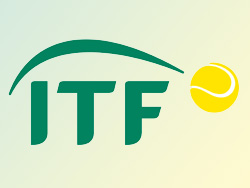 For the first time ever, Tobago will play host to an international lawn tennis tournament. It is expected that 150 competitors from 21 countries around the world will participate in the International Tennis Federation's Junior tournament, from Sunday, August 21 to Saturday August 27th. All matches will be played at the Tobago House of Assembly (THA) world class tennis courts at Shaw Park.
THA Chief Secretary Orville London will speak at the opening on Sunday, August 21 at the sporting facility in Shaw Park, from 6.30 pm.
This is a tremendous sports tourism opportunity, as top junior players and coaches from around the world will be here on the island. This Marquee event brings invaluable prospects for our locally based players as they will be competing at a high level on their home turf.
Additional information on this event can be obtained from the primary tournament organisers Crusoe Isle's Tennis Club, Scarborough. Dr. Dwight Angus and Mrs. Kyawana Shaw-Abraham are ready to provide you with all the information and interviews, you may require. They can be contacted at telephone numbers (310-3933) and (639-3145/782-9054), respectively.