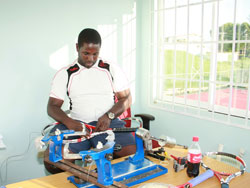 THA Chief Secretary Orville London on Sunday described the first ever international lawn tennis tournament being held in Tobago this week as the "most important and prestigious".
Addressing the opening ceremony of the tournament at the spanking new Shaw Park Courts, the Tobago Chief Secretary said it was a very proud moment for Tobago and saw it as an evening of proud celebration. In paying tribute to the organisers he said the significance of the tournament must be recognised and the organisers must be applauded for facilitating it.
He said from the perspective of international participation by over 20 countries it was in fact the tournament where there was the widest range of participation from international countries, adding that there were tournaments before with four and five countries participating but this was by far the most prestigious tournament from the perspective of international participation and "we must also applaud those who had the courage and the initiative to accomplish it".
London suggested that this was only achieved because the Tobago Zone would have earned the confidence and the respect of the national and international federations to stage the tournament. He said the tournament would not have been located in Tobago regardless of the calibre, commitment and capacity of the local organising committee but for the fact of the magnificent courts of international standard put down by the Assembly. The THA is contributing $250,000 towards the staging of the tournament.
He said as Chief Secretary and leader of the Assembly he was proud to be associated with this particular exercise. He said with the holding of the international tournament he was now a relieved and happy man since he was given the assurance by the Tobago Tennis Association that the courts were of international standard.
London said this was very timely since Tobago was celebrating the 30th anniversary of the Assembly and in fact had tied in to the mantra of the 2011 Tobago Heritage Festival "we come from far". He added that in the past he knew of two private tennis courts at hotels where Tobagonians had to pay or steal a game to play. He said in addition to the new courts there were numerous ones throughout Tobago and added that Tobago had more tennis courts per head of population than any other land mass in the region and Tobago should be proud of it.