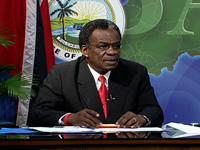 THA Chief Secretary Orville London has said the scrap iron industry in Tobago was becoming scandalous.
He added that it had reached the point where unscrupulous individuals encouraged by dealers were actually destroying historical artefacts, cutting up sugar mills and windmills, distressing people, stealing grills over manholes, all in the unholy quest for scrap iron to transform into dollars.
London who was speaking at last week's post Executive Council media briefing said the individuals were also being encouraged by dealers, some of whom have very unsightly sites of scrap iron often in residential areas.
He said he had initiated discussions with various agencies including the public health authorities and will be holding discussions with the police, the Division of Infrastructure and Public Utilities and any other authority that can assist the Assembly in controlling "this menace because I consider it be menace".
London said: "I have absolutely no problem with people making money but when people do so without any regard for history, without any regard for private property, without any regard for the environment, without any regard for aesthetics we have a responsibility to control it."
He gave the assurance to Tobagonians that the Assembly will find a way to control it and urged the citizenry to desist from encouraging this state of affairs.
The Chief Secretary admitted that at some point people would have to get rid of some kind of scrap iron since the environment demanded it but it was something that needed to be controlled in a more effective manner. "We are willing to utilise any legitimate and legal means to control the process. It is not that we are against people getting rid of unsightly material in various parts of Tobago but it has to be done in a way that respects the environment, respects the law," London added.