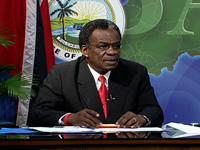 THA Chief Secretary Orville London said yesterday (Tuesday 23rd August 2011) that Tobago was already feeling the economic effect of the State of Emergency declared by the Government on Sunday.
He noted that thousands of Trinidadians will be unable to come to Tobago for the last two weeks of the school vacation as a result of the T&T Port Authority rescheduling and cancelling several of its ferry sailings on the seabridge. He said the service, according to the authority has been operating at full capacity for the past two months moving over 100,000 persons in one month and was on target for the first time to move over one million between the islands in a year. He added that this will also affect the attendance at the annual Carib Great Race on Saturday.
In addition, London disclosed that international visitor arrivals were on the upswing by 10 per cent before the imposition of the emergency and curfew hours in hot spots but this was being affected by the withdrawal of American Airlines services to Trinidad. Fifteen per cent of these arrivals come via Piarco.
"This is no time to panic," he said, "this is really a time for planning and this is a time for us to be responding as mature people and doing what is necessary in order to treat with the fallout because there is going to be fallout, you cannot get away from that.
He said the Assembly would be attempting to put measures in place which will give it a chance of alleviating some of the fallout and had summoned a special meeting of the Tourism Standing Committee for Friday to discuss the issue.
London along with Tourism and Transportation Secretary Oswald Williams hosted a media briefing at the Calder Hall Administrative Complex to deal with the declaration of the State of Emergency in Trinidad and Tobago. He said such a declaration should be a last ditch effort.
While declaring that Tobago had a challenge, London advised Tobagonians that "now is not the time to panic, we must obey the law, it is of no consequence whether you believe that there should or should not be a State of Emergency, there is, there are restrictions and there a rules to follow and therefore we have a responsibility to follow those rules".
He said Tobagonians also had a responsibility to protect their space and it was in that context he was urging them that if they saw anything untoward going on in their community they should report it because these were not ordinary times and therefore people must be able to respond in a mature and responsible way.
He was also in discussion with ACP Tobago Franklyn Edwards to ensure Tobago does not become a safe haven "for those who wish to leave the hot spots". He said individuals who were supposed to be under scrutiny had ample opportunity to decide where they wanted to be, where they would be or whether they wanted to go somewhere else. "It is in those circumstances I am saying that some of these people might consider Tobago to be a cooler place and therefore would wish to spend some time here," he said.
He said he did not know whether it was a right decision or a wrong decision to declare a State of Emergency, but at some point in time the country must be told what the Government hoped to achieve by doing this, not just for 15 days to cut down on the crime but what it was hoping to achieve in the short and medium term.
He added that his evaluation over the past year was that responses to the crime situation have been more or less a kind of PR populace kind of responses rather than responses geared to treat with the long term challenges in relationship to crime.