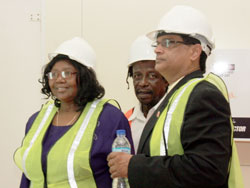 A renewed relationship involving collaboration between the THA Division of Health and Social Services and the Ministry of Health was established on Monday when health stakeholders met in Tobago.
Unlike a year ago when former Minister of Health Therese Baptiste-Cornelis visited the construction site of the new 100-bed Scarborough General Hospital, Monday's visit by new Minister of Health Dr Fuad Khan was without controversy.
In fact Khan was in full support of collaboration between the two sides to ensure there was no hindrance to adequate and proper health care to the residents of Tobago. He said the emphasis of his visit was one of collaboration between the THA and his Ministry to put an oversight team together to fast forward the commissioning of the new hospital and to develop a strategic plan to ensure a smooth operation.
After discussions with THA Chief Secretary Orville London, Secretary of Health and Social Services Assemblyman Claudia Groome-Duke and their technocrats Khan and his entourage visited the new $28 million Scarborough Health Centre at Bacolet, the present Scarborough Hospital at Fort King George and the new hospital under construction by China Railway Construction Company at Signal Hill.
At the meeting the Chief Secretary established the focus for the group when he said that the team should determine three objectives, the Ministry's responsibility with the THA's collaboration, the THA's responsibility with the Ministry's collaboration and shared responsibilities.
Following the tour Khan said he was very impressed with what he had seen at the health centre and the new hospital. He added that after touring the present hospital at Fort King George he was convinced that there was an urgent need to vacate the facilities and move to the new site at Signal Hill.
The Minister offered his Ministry's support to the Tobago Team in the commissioning process to which the Secretary of Health said she graciously accepted the offer of collaboration.
On his tour of the health centre the Minister discussed issues surrounding the new dialysis unit with its nine chairs and said it could become the dialysis centre for Tobago.
One patient who at the time was being dialysed requested to address the Minister and the touring team to commend the staff for the tremendous care put into their work. He described the relationship in the unit as a family so much so that one member of staff got married recently and invited all of the patients who attended.