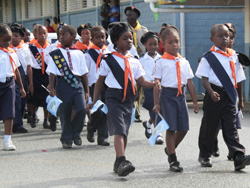 A Children's Street Parade was held on Friday (December 2, 2011) in celebration of the thirtieth anniversary of the Tobago House of Assembly. The children, wearing the uniforms of their representative groups, held blue THA flags as they marched from the Scarborough Roman Catholic School to the Garden Side Car Park.
The parade included the Red Cross, Seventh Day Adventists Pathfinders and Adventurers, Gold Guides, First Roxborough Scouts, 4H, and Brownies. Excitement was on the faces of the young marchers and their leaders. "It is an opportunity for them to be a part of the celebrations. They don't get to participate in the Independence Parade and other parades. They're excited to be involved," said Maricia Edwards.
The Cadet team led the parade, drumming the tune "Happy Birthday" as the procession proceeded down Main Street towards their destination.
The parade and the cultural show that followed were coordinated by RC school supervisor, Sonia Seabro, who had planned the event, along with the Division of Education, Youth Affairs, and Sport, the heads of the teams, and the schools. She said the parade was the children's way of taking part in the thirtieth anniversary celebrations through the Division of Education, Youth Affairs, and Sport.
"The cooperation among the groups was good. There was a big show of interest," she said.
She added that it was a good way for them to showcase the discipline they had learned in school.
"I think the march was a good idea. It should be made a yearly event," said Morisa Dann, a young participant.
The cultural show highlighted the talents of young Tobagonians. It included steel pan music by Speyside High, monologues by Scarborough RC, and a traditional dance by Golden Lane Government Primary.
There was also a youth rally on the Esplanade in the afternoon.