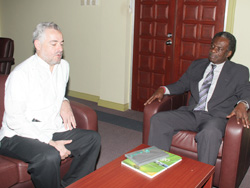 Ambassador of the United Mexican States to the Republic of Trinidad and Tobago, Mario Eugenio Arriola Wong, paid a visit to THA Chief Secretary Orville London on Monday (December 5, 2011) to continue strengthening the ties between Mexico, and Trinidad and Tobago.
When asked what he hoped to accomplish as Ambassador, Wong, who arrived in Port-of-Spain three months ago said: "I would like to strengthen the political dialogue. Also, our lateral trade, and to develop cultural activities between our two countries. I think those are the main issues."
He said Mexico and Tobago depended on foreign tourism to develop their economy, and that another possibility was for the two countries to identify some actions of cooperation between them in order to strengthen tourism for the benefit of the two people.
"When there is an economic crisis in the developing world, less tourist come to our countries," he said.
He added that the tourism industry in Mexico was working well and that he hoped it was the same circumstance next year. "We're very active in promoting Mexico in the US and Canada," he said.
Wong noted that the tourism campaign of Mexico highlighted it as a country having culture and beautiful beaches in the Caribbean, with locations such as Cancun. "Mexico is a Caribbean country," he said.