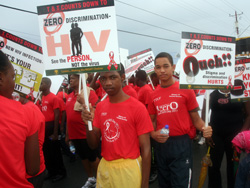 The Trinidad and Tobago Cadet Force (TTCF) held a charity awareness walkathon against HIV/AIDS on Sunday (December 4, 2011). Proceeds from the event were donated to a home-care program for persons with HIV/AIDS.
The walkathon, themed "Walk Against HIV AIDS Amongst Youth" was to raise awareness of the deadly virus among the country's young people. It was also part of the buildup of national and international observances of World AIDS Day 2011 "Count Down To Zero."
23 million people have died from AIDS worldwide. The Cadet Force began the walkathon at the Bon-Accord Government Primary School. The charity event was an effort to raise youth awareness in Tobago, and to educate them about preventative measures and living healthier lives. The rationale of the Cadet Force was the AIDS virus could be prevented through education, awareness, and precautionary methods.
HIV/AIDS threatens the development, social cohesion, and life expectancy of young people. The goal of the Cadet Force was also to raise public awareness regarding the discrimination against infected persons, as well as the lack of confidentiality that undermines prevention and treatment of those persons living with HIV/AIDS. The intended outcome of the Cadet Force was that youths should spread the knowledge gained about prevention and reduce the stigma and discrimination relating to HIV/AIDS.
Prevention of HIV infection/AIDS must be reinforced nationally and internationally to fight against the epidemic.
Both the Cadet Forces in Trinidad and Tobago collaborated in organising separate walkathon on both islands to further youth education.