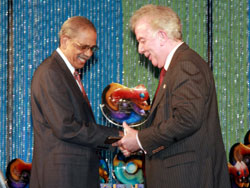 UWI Tourism lecturer Dr Sherma Roberts told industry stakeholders that tourism destination competitiveness requires an adherence to rules, to standards and at the far end to legislation.
"We cannot have hotels and attractions that are operating without health, fire, safety and other standards as it maximizes risk to the user and to employees, whom as I have just suggested can blog about you in real time," she said at the recent Tourism and Transportation Tourism Awards Function in the Foyer of the Gulf City Lowlands Mall.
She stressed that enforcement required political will; the absence of nepotism, "clientelism" and tribal politics, and cow towing. "Some of our plant needs to be closed until they can comply. Gone are the days when you could trade on your glory days. The consumer is expecting value for money, quality and adherence to ethics," she added.
Tobago-born Roberts is also the programme coordinator of the MSc tourism and hospitality course in the UWI Department of Management Studies at the Cave Hill Campus.
She said the convergence of global and regional economic and social forces have provided an opportunity for Tobago to stop and consider the way forward- to imagine and re-vision a Tobago tourism industry that was poised and ready to navigate and benefit from the current and future global occurrences.
"Transitioning Tobago to a competitive and sustainable destination requires a revolution in the way we think about the business of tourism. Operating in this changed state will call for different configurations of partnerships that will ensure that tourists and our people are served by transportation networks that are efficient, reliant and affordable. A reclaimed and refined Tobago tourism industry celebrates the fact that we have a creative pulse and imagination that we should valorise and use to carve out a number of unique experiences for our visitors," Roberts said.
"But to accomplish many of these tasks," she added, "we need a spirit of collectivism. In some instances, you will need the buy-in and support of your local private sector stakeholders, your communities, your service providers, central government and your regional partners."
Roberts challenge tourism stakeholders to seek out these types of win-win partnerships whether it was with airline, tour operators, marketing companies, communities, destinations, media houses, entrepreneurs, and other local, regional, international and diasporic associations and groups. "Continue to engage your publics, as you have begun doing over the last few weeks. Find new ways to pursue new markets and avenues for increasing not only the quantity of your visitors but also the quality. Craft a destination vision and invest in a master plan that is underpinned by the values of the Tobago spirit so that in the end, we create a distinctive destination experience found nowhere else in the world," she said.
Former Tourism and Transportation Secretary Neil Wilson was among 12 persons who were presented with Tourism Icons Award for their contribution to Tobago's tourism industry. Four retirees were also presented with awards for their services to the Division of Tourism and Transportation while twelve industry awards were also presented to the top operators.