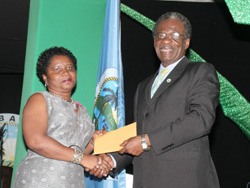 The Tobago House of Assembly (THA) has provided $80,000 to bronze medallist Kelly Ann Baptiste to assist her in her training programme for the London Olympics in July-August next year.
A cheque for the amount was presented to Kelly Ann's mother Hazel Taylor by Chief Secretary Orville London on Sunday night at a reception he hosted at the Magdalena Grand Beach Resort.
Kelly Ann was promised the assistance when she visited Tobago and paid a courtesy call on London at his Calder Hall office on October 14. She won bronze in the highly competitive women's 100 metres event at the IAAF championship, in South Korea last August.