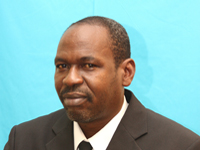 Assistant Secretary in the Division of Infrastructure and Settlements Gary Melville has appealed to Tobago residents to take precautions against inclement weather during the current rainy season.
He said the Tobago House of Assembly (THA) was doing its part with a programme of cleaning drains and water courses throughout the island to avert flooding.
He said infrastructure works were also being carried out in King's Bay, Delaford, Bridge Gully, Speyside, Goodwood, French Fort and L'Anse Fourmi/Bloody Bay in the east and Signal Hill, Lowlands and Bon Accord in the west.
Melville said already 120 persons have been employed on the projects and this will be doubled in two weeks time. He added that some of the work will also be given out on contract and his Division will soon be inviting tenders for these projects.
He said sidewalks have been constructed near schools in Rockly Vale, Signal Hill and Speyside to serve the children. He said a sidewalk will also be constructed as soon as realignment works were completed on the Bye Pass at Shaw Park.
Melville also disclosed that mini malls were being constructed in a number of areas including the new settlement areas to encourage small business operators in these areas. He said State-owned National Maintenance and Training Company Limited (MTS) will be constructing community centres in Speyside, Lowlands and Betsy's Hope.
He said while the extension of the Store Bay Local Road to Stumpy's Hardware was completed, NIDCO has committed itself to taking it up to Shirvan Road.