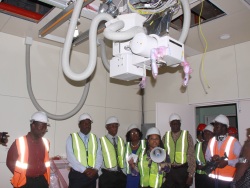 Completion of the 100-bed hospital at Signal Hill has been delayed by four months, according to Patrick Caesar, Project Manager of the National Insurance Property Development Company Limited (NIPDEC).
He explained that October was the original outside date for the completion of the project. The Ministry of Health had promised to deliver the completed buildings comprising the hospital by the end of June.
Caesar was speaking to the media at the end of a tour of the project by THA Chief Secretary Orville London, Secretaries, Assistant Secretaries and the media on Thursday. The hospital will be named the Scarborough General Hospital and not the Scarborough Regional Hospital or the Tobago Regional Hospital. The full equipped hospital is estimated to cost approximately $725 million.
The new hospital will have facilities that are three times those in the current institution. These include 14 out-patients beds, 12 mental health, 31surgical, 12 paediatrics, 31medical, 12maternity as well as two operating rooms in theatre, one same day surgery room and four recovery beds. The accident & emergency unit contains 18 rooms for general and private observation, nebulising, resuscitation and isolation for treatment of fever and intestinal complaints. Pieces of modern equipment have already being installed at the new hospital including digital x-ray units, the most modern in the Caribbean region.
The new infrastructure facilities include a worship hall providing a picturesque view overlooking Scarborough and the Atlantic Ocean, dedicated rehabilitation space, central stores, building maintenance and engineering, helipad and administration building and dormitories.
A new modern laundry to service the hospital and do "outside" jobs is currently being constructed and equipped a stone's throw away in nearby Shaw Park at an estimated cost of $26 million. It will also become functional in October. At present the hospital's laundry is taken twice per week to the Eric Williams Medical Complex, Mt Hope for cleaning.
London said while the Assembly was disappointed in the four-month delay of the delivery of the new hospital building assured that this will not interfere with the start of delivery of services in six to nine months.
He said the project had reached the point where Tobagonians will have a first class facility of which they will be proud, adding that it compared favourably and superior to almost any in the region. "I am very pleased with what I have seen. I expect the building will be delivered in a couple of months, that the commissioning exercise will take between six and nine months, and sometime in 2012 the people of Tobago will have access to a facility which is second to none, definitely in the country and may be second to none in the region," London said.