The Tobago House of Assembly (THA) on Thursday opened its third fishing facility in the island in six months.
The fully air conditioned facility, the Mt Irvine Fishing Centre will cater for almost 70 fisherfolk from Mt Irvine, Black Rock, Turtle Beach and Plymouth. It contains ultra modern equipment including an ice maker, freezer and vending counter tops and will provide full employment for four staff.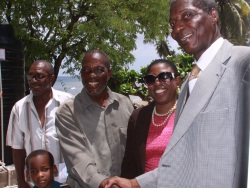 THA Chief Secretary Orville London who cut the ribbon to officially open the centre encouraged the fisherfolk to go out and fish because there was sufficient cold storage space at the Tobago Cold Storage and Warehousing Facilities at Shaw Park. He said the fishermen should be looking at the export market and disclosed that the Assembly had spent approximately $2 million to upgrade the Shaw Park facilities.
He said Tobago fishermen had to find ways to sell their fish and urged them to change their mindset since the success of the facility will be measured by the use they made of it.
London said the Assembly was very concerned about the safety of the island's fishermen when at sea, hence the reason for the Motion debated in the House of Assembly last week Thursday. He said he had written the National Security Minister on three occasions about the issue requesting protection for the local fishermen against "pirates" out at sea.
He said he had also written Prime Minister Kamla Persad-Bissessar on the matter without success, hence the motion.
London said Tobago fishermen had received better treatment than their counterparts anywhere in the region and defied anyone to tell him this was not so.
Secretary of Agriculture, Marine Affairs, Marketing and the Environment said similar facilities were being built at Swallows, Lambeau, Belle Garden, Castara and Charlotteville. He said waste from the new facility will not go into the nearby sea and urged the fishermen to keep the facility clean at all times.
Fisherman, Pastor George Alexander urged his fellow fisherfolk to make proper use of the facility.