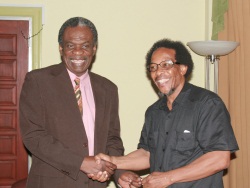 Tobago's creative community could burst into song now that a copyright study is to be done on the island. THA Chief Secretary Orville London announced the study shortly after a meeting with Director of the Creative Industries Division in the World Intellectual Property Organization (WIPO) Dimiter Gantchev, last Friday. (June 3rd)
It is expected that findings of the study could inform the creative industry in Tobago. London who always boasts that there is talent in Tobago to fill every square inch of the island, said the THA embraced the project the moment it was approached months ago.
He also noted that revenue from intellectual property can contribute as high as 10 per cent to a country's Gross Domestic Product.
Imminent researcher and economist Dr Vanus James, who attended the Calder Hall meeting, noted that the THA contributed the bulk of the funds to start the project.
So far Trinidad and Tobago is the second of only two Caribbean nations where the WIPO is carrying out this study. James, who is the lead consultant of the project, said the study will tell the real story behind the creative industries. It will identify the areas for growth and potential. James added that the study will also show where the typical person "can be repositioned to find empowering and enriching jobs outside of the THA."
Findings from research of the creative community in Tobago will be comparable as the study was conducted in 30 countries worldwide according to Gantchev. The WIPO is in Trinidad and Tobago on invitation from the Government.