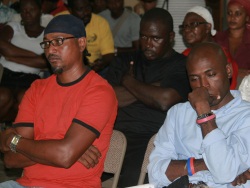 Scores of residents who have been living on State land on the Mt St George and Studley Park estates in east Tobago are to be regularised.
THA Chief Secretary Orville London made this promise to some of the affected residents at a Community Meeting at the Mt St George Community Centre on Thursday night. London said there were persons going around in the village promising these residents the land.
However, he warned: "Don't let them fool you. Nobody in Tobago except the Chief Secretary and the Executive Council have the authority to give you State land." London said there were 11 separate areas where people were occupying land on the estates for various reasons.
The Chief Secretary said the Assembly had already done its homework and it was now up to the affected residents to collaborate with it in resolving the problem of several years. He added: "I am saying that if you are living on the land for a period of time we will regularise you."
He said he and a team from the Assembly will be returning to the village by month end to deal with the situation in a similar way that it dealt with the residents of Adelphi estate in north Tobago. Over 20 residents on that estate have so far been regularised.
During the two-hour meeting several residents also complained about the stench coming from the nearby Studley Park dump. They claimed that the nearby river was also being polluted with material from the dump while droves of flies often swarm their homes daily.
In response Assistant Secretary of Health and Social Services Huey Cadette told the residents that the Assembly has had discussions with SWMCOL for the past 18 months and was in search of a suitable site to relocate the dump.
Assistant Secretary of Infrastructure and Public Utilities Gary Melville said over the next three months several infrastructure works will be undertaken in the village. He added that as far as possible villagers will be employed on the projects and small contractors will be used where necessary. He said roads will also be repaired.
London described the holding of the community meetings as an exercise for Secretaries, Assistant Secretaries and himself to receive information and guidance and regardless of who they were they were their employers.
He said the true test of the exercise was how they responded to their concerns. "Your concerns are our concerns," London added.
The next community meeting will be held on Thursday (June 9 2011) at 6 p.m. at the Signal Hill Community Centre.