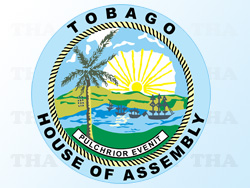 Chief Executive Officer (CEO) of the Housing Development Corporation (HDC) and Chairman of the Urban Development Company Limited (UDeCOTT) Jearlean John met top officials of the Tobago House of Assembly on Friday to discuss the role of the two State-owned agencies in Tobago.
Following the meeting THA Chief Secretary Orville London said the discussions cantered around the role of UDeCOTT in large projects in the island and the involvement of the HDC in the next phase of the Assembly's settlements programme.
The Chief Secretary said opportunity was taken to raise issues relating to the clearing up of outstanding claims of contractors and their concerns in the current settlements programme, formalisation of decisions taken by the HDC concerning the settlements at Buccoo and Bon Accord and the Bon Accord commercial centre. He said firm decisions were taken on the issues raised.
London said the meeting held at the Office of the Chief Secretary was conducted in a very cordial and professional environment and described it as very productive.
He said John has made a commitment to visit Tobago every fortnight and if necessary every week to conduct discussions.
Also participating in the discussions were Secretary of Settlements and Labour Whitney Alfred, Secretary of Infrastructure and Public Utilities Godwin Adams, Assistant Secretary in the Decision of Infrastructure and Public Utilities and Director of Settlements Tracy Ann Anthony.