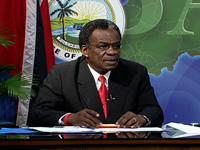 The Water and Sewerage Authority (WASA) plans to spend approximately $50 million on three wastewater management projects in southwest Tobago, according to THA Chief Secretary Orville London.
He told the weekly post Executive Council media briefing on Wednesday (June 8 2011) that wastewater management for southwest Tobago has been in the pipelines for the past 20 years and in 2009 it was estimated that the cost of the entire project would have been $824 million. He said sourcing that kind of money was going to be a problem and therefore the project will be done in phases.
The Chief Secretary met with the WASA management headed by CEO Ganga Singh earlier this week when a short term programme was agreed upon.
London said the project will be undertaken in phases with the establishment of three ponds to serve an estimated 6,000 households and businesses. He disclosed that ponds will be built at Bon Accord and Golden Grove at an estimated cost of $12.5 million each and a third at Buccoo, estimated to cost $25 million. He said the three ponds were estimated to take 18 months to complete.
The Chief Secretary said tenders for the project will be invited in three months and within a two year period relief would be brought to the area.
London said he was heartened by the WASA response and its agreement to meet every three months to discuss WASA issues to the benefit of the residents of Tobago.