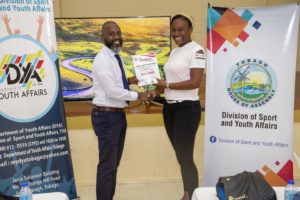 Twenty young Tobagonians from north east Tobago are now much better equipped to respond to a disaster.
The participants, ages 19-29, attended the May 7-9 Disaster Preparedness and Management Workshop at the Charlotteville Branch Library.
At the workshop, hosted by the Division of Sport and Youth Affairs with technical support from the Tobago Emergency Management Agency, the group learned about various aspects of disaster preparedness.
The topics covered several areas, including chainsaw use and management, fire prevention, emergency planning, risk assessment and radio communication.
Youth Development Officer II in the Division's Department of Youth Affairs, Lyndon Wilson, said the session helped to empower youth from north east communities.
"The idea is exposing the youth to key information on how to handle themselves and their environment during an emergency," he stated, "so they can step up to the plate in such circumstances."
The workshop was facilitated through a combination of multimedia presentations, lectures and practical exercises.