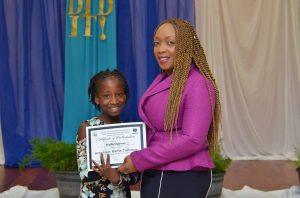 Nearly 100 youth completed their respective courses in the Y-Zone programmes recently.
Communities across Tobago participated in Y-Zone training programmes geared towards building sustainable development. Participants learned the basics in broadcast media, mixology, garment construction, cosmetology and other skills.
They graduated on September 6.
Secretary of Community Development, Enterprise Development and Labour Marslyn Melville-Jack said she was pleased that good use was being made of the Y-Zones.
"It was only in January that the Division instructed coordinators of this Department to ensure that Y-Zones were upgraded and that they were utilised, not just to become friendly spaces, but a safe haven for young people after school hours," Melville-Jack said.
The initiative targeted youth who have no adult supervision after school. Melville-Jack said she has given a directive for the Y-Zones to be used as homework centres and spaces for reading.
"This has been accomplished quite well in all seven Y-Zones," the Secretary added. "However, we felt that during the July/August vacation when most students were out and there was a lot of time on their hands, we would provide programmes that we felt would impact positively on our young people."
The programme had 91 participants, ranging from ages six to 19 years.