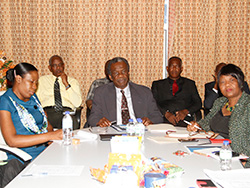 Tobago has begun its preparation in the event that the deadly Ebola disease makes it to these shores.
A critical team met on Thursday (16th October 2014) to start preparation in Tobago for a possible outbreak of Ebola currently affecting countries in West Africa.
The two-hour meeting which was chaired by THA Chief Secretary Orville London at the Calder Hall Administrative Complex, Scarborough was attended by senior representatives of the Customs and Excise Division, Immigration, Police, Port Authority, Airports Authority, Health Division and the Tobago Emergency Management Authority.
London urged Tobagonians not to panic and said public education about the disease and its precautions is essential.
London said this first meeting was held to co-ordinate what each unit is doing, to establish strategies and a common policy towards the disease. A follow-up meeting will be held next Wednesday to discuss a report from a technical committee before requesting discussions with the "national authority" in the following week. It is expected that the Tobago plans will be discussed and integrated nationally.
The Chief Secretary said the Ebola disease is creating a global challenge and Tobago is not insulated or isolated from that. He said although there is a response from Trinidad and Tobago "we also in Tobago accept the fact that we have unique circumstances and we as an island need, to prepare our own response to ensure that we are in the best position to tackle this disease".
County Medical Officer of Health (CMOH) Dr Vishwanath Partapsingh noted that a multi sectoral approach to deal with the disease in Tobago is being worked on and "we want to ensure that every sector will have a responsibility responding, a responsibility for acting and a responsibility for carrying out decisions".
He said the Division of Health and Social Services has been meeting with the Port Authority and the Airports Authority to first discuss the strengthening of existing systems to prepare for an Ebola outbreak. Partapsingh added: "That too is translating into operating procedures since it is not just a matter of decisions and plans. Persons must know the responsibility of their actions of events, who is to be communicated, the actions of ill passengers with regard to Ebola or non Ebola cases, as well as the resources available to deal with these situations at the ports of entry."
Secretary of Health and Social Services Assemblyman Claudia Groome-Duke said her Division had taken the threat of the Ebola disease very seriously and is doing everything possible to ensure that the people of Tobago are safe.
Groome-Duke stressed that the Division is ensuring that the health professionals are properly trained in dealing with the situation should the need arise.