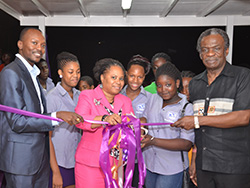 The island's seventh Youth Zone (Y Zone) was set up in Mason Hall this week. The spaces have been part of the Division of Community Development and Culture's continued youth development thrust.
A number of training programmes are available at the Y Zones including the IBG Phoenix Program and Rosetta Stone Spanish Program, peer counseling for children, free internet access, a homework centre, and an adult literacy programme.
Y Zones are facilities designated as youth friendly spaces. They are also located in the communities of Argyle, Speyside, Calder Hall, Carnbee/Mt Pleasant, L'Anse Fourmi, and Plymouth. The Mason Hall Y Zone Facility is located at the Northside Road, Mason Hall.
The latest facility, which cost $400,000, is available to youths and other residents of the community. It comes equipped with modern state of the art computers and accessories.
Assistant Secretary, Division of Community Development and Culture, Ancil Dennis said: "We recognize the importance of youth. Young people are not just the leaders of tomorrow, but we are the leaders of now". He said every young person is capable of being a leader.
The Mason Hall Y Zone included a new air conditioner, plumbing and electrical works, painting, new furniture, and landscaping. The features of the facility include seven computers, network printing capabilities, a soft seat and a veranda set, and a small kitchenette area.