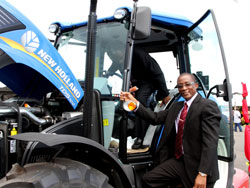 The THA Division of Agriculture, Marine Affairs, Marketing and the Environment is embarking on a Farm Animal Recording System, where a micro-chip will be implanted in livestock to provide a greater degree of traceability for disease surveillance and monitoring, as well as in instances where animals are stolen.
Secretary of the Division Assemblyman Godwin Adams said this is being done in an effort to partner with Tobago farmers in the struggle against praedial larceny.
Speaking at the launch of an agriculture exhibition and food fair last Wednesday (15th October 2014) to mark World Food Day (WFD) 2014 at the parade ground of the Dwight Yorke Stadium, Adams said farmers and food processors could look forward to a brand new packing house facility at Shaw Park, which the Division is swiftly moving to have opened and fully functional soon.
"This facility will provide services for cleaning, sorting, grading and minimal processing of agricultural produce to significantly reduce post-harvest losses of crops while ensuring that the Tobago public receives the highest quality of food that meets food safety standards," he added.
Adams said the facility will also deliver a cold-chain service that will help in extending the shelf-life of produce and thus aid in loss reduction.
He added that livestock farmers, butchers and meat producers will not be left out since construction will start soon on two new modern abattoirs in Hope and Kendal, delivering facilities that support the safe and humane slaughter of animals, and hygienic storage of meat that can be safely put on any table anywhere in the world.
He said over the past year, the Division has paid out incentives to over 125 persons to the tune of almost $900,000 for water irrigation, funding assistance for equipment, security against praedial larceny, farm structures and start-up capital.
Adams said the Tissue Culture Laboratory at Goldsborough in east Tobago has sub-cultured over 15000 healthy disease-free plantlets including dasheen, yam, eddoes, plantain and banana; it has also distributed over 4000 dasheen plants to farmers to facilitate the expansion and commercialisation of dasheen production for tubers and leaves.
In addition the Lure Estate at Goldsborough has produced and distributed to farmers over 4000 cassava sticks, 5061 sweet potato slips and countless dasheen, banana, pineapple and plantain suckers, among other crops.
Adams disclosed that home gardener and teacher Allette Charles-Hercules copped the first prize from among 229 established home gardens and over 130 registered persons in the 2014 Home Gardening Competition run by the Division. She was presented with her prize during the opening ceremony.
He said the competition was designed to encourage family farming and promote healthy eating by eating what you grow and growing what you eat.