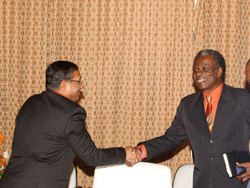 The Environmental Management Authority (EMA) is to establish an office in Tobago to deal with issues exclusively relating to the island.
This was revealed during a one-hour meeting with the Tobago House of Assembly's Chief Secretary, Orville London and EMA Chairman, Dr Allan Bachan, last Monday (20th Oct)
The EMA Chairman said the authority will provide staff to man the office and explained that the office which will be working in collaboration with the Assembly will be responsible for approving projects to be undertaken on the island.
At present the THA Department of Natural Resources and the Environment makes recommendations on projects and then forward them to the EMA in Port of Spain for approval.
Bachan said the office will have powers of compliance and enforcement among its functions. He promised that proposals for the office will be submitted to the Assembly within a week.
Chief Secretary London who welcomed the EMA's proposal noted that "whatever we do in Tobago must be equal to or superior to the national standards". He also gave an undertaking that the proposal for a wildlife survey in Tobago will be considered by the Executive Council next week.
He said the protection of the environment is critical to the development of Tobago.
The meeting took place at the Calder Hall Administrative Complex.