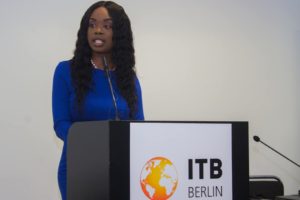 Tobago is again being represented at the Internationale Tourismus-Borse (ITB) in Berlin Germany after being absent in 2018.
ITB is the world's largest tourism trade show. The platform was used to officially launch the new Tobago branding and imagery to the German market, which is the island's second largest tourism market behind the United Kingdom.
The Division of Tourism, Culture and Transportation through the Tobago Tourism Agency Ltd., unveiled the 'Tobago Beyond Ordinary' branding and marketing campaign at the event yesterday (March 7, 2019).
Tourism Secretary Nadine Stewart-Phillips indicated that Germany remained an important source market for Tobago's tourism industry.
"We remain committed to working with Condor Airlines whilst seeking out new business, which will ensure your travel to Tobago is hassle-free. We are ushering a new way of approaching tourism by improving our existing product offerings, greater marketing and visibility of the destination, improved airlift and connectivity and improving our standard of service", she said.
During the launch, Chief Secretary Kelvin Charles invited the media to experience the natural beauty that the island offers visitors. He also informed the German market of the infrastructural development taking place, specifically the construction of a new terminal building at the ANR Robinson International Airport and the construction of a marina in the south western end of Tobago.
"I promise you, any trip to Tobago will be far more than a mere visit.  As you indulge in the 101 reasons to visit Tobago, it will only whet your appetite and leave you with an insatiable hunger that can only be satisfied with more of Tobago," Charles said.