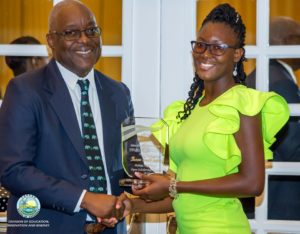 The success of the top 10 Caribbean Advanced Proficiency Examination (CAPE) and Caribbean Secondary Education Certificate (CSEC) Tobago students was affirmed when they were recognized at an awards ceremony on December 12, 2019 at the Magdalena Grand Beach and Golf Resort, Lowlands.
The event was hosted by the Division of Education, Innovation and Energy.
"You have done exceedingly well," THA Chief Secretary Hon. Kelvin Charles said. "I commend you for shining and I trust that you will do well wherever your desires lead you…We look forward to the day when, after your formal education, you will come back to Tobago and help build this island," he added.
Scarborough Secondary student, DeJean Lewis, was the sole CSEC awardee. He received an award for placing second in Industrial Technology regionally.
The CAPE Unit 1 awardees were Treverra James, Sharese Taylor, and Rae-Ann Wright. CAPE Unit 2 awardees were Sharese Taylor, Danique Edwards, Shayana Daniel, Kymoi Noray, Lynisa Francis, Kershel Pierre, and Aaron George.
Sharese Taylor and Anique Gray, both of Bishop's High School, received an Open Scholarship for Language Studies and an Additional Scholarship for Natural Science, respectively.