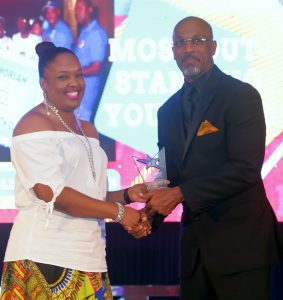 The Moriah Police Youth Club stole the spotlight last night (October 23) at the Tobago Youth Awards 2018, picking up two of the three categories for youth organisations.
The club won both the Most Improved Youth Organisation and Most Outstanding Youth Organisation accolades during the event at the Magdalena Grand Beach and Golf Resort. This recognition came for its work in transforming the lives of youth in the community and environs.
Winning Most Effective Youth Programme/Project was the Youth Construction Programme, a joint venture between the NGO TT Youths Will Rise and Duchris Construction.
Other standout winners included National Youth Award recipient Je'Vaughn Arnold, who took the Agriculture category, along with student athlete Beyoncé Moses (Youth Triumph) and Latoyaa Roberts-Thomas (Youth Mentor), who is president of the Tobago Youth Council.
During the function, the nominees got some timely advice from Secretary of Sport and Youth Affairs, Jomo Pitt, who said their successes are testimony that young people are persevering and achieving excellence despite the country's economic challenges.
"This is the time for us to show the strength of our character, the mettle of who we are," Pitt said. "We're from a little island called Tobago, many of the parents of the nominees grew up in an era when hard times were part of the course and yet still they were able to make it," Pitt said.
HONOUR ROLL
Most Improved Youth Organisation – Moriah Police Youth Club
Most Outstanding Youth Organisation – Moriah Police Youth Club
Most Effective Youth Programme/Project – TT Youths Will Rise (Youth Construction Programme w/ Duchris Construction)
Youth Triumph – Beyoncé Moses
Agriculture – Je'Vaughn Arnold
Health and Wellness – Shervell Williams
Youth Mentor – Latoyaa Roberts-Thomas
Performing Arts – Ameika Louis
Media – Theon Graham
Youth Service – Welldon Mapp
Entrepreneurship – Kishawna Sebro
Education – Cindy Andrews
Youth Leader – Kern Walker