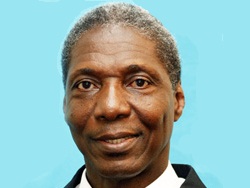 The Tobago House of Assembly intensified its road rehabilitation exercise for Tobago today (Friday September 9, 2011) in the Bethel Community. Just one month in office, newly appointed Secretary of Infrastructure and Public Utilities Hilton Sandy has promised that the Assembly will continue to develop the infrastructural capacity of the island, paying immediate attention to main and branch roads.
The Executive Council has approved $76 million for maintenance and development works with principal contractors Seereeram Brothers, Warner Construction and Trinidad Contractors. Sandy told reporters that his Division's engineers will be closely monitoring the standard and progress of the road works being done and said contractors have been warned that if works were not satisfactory, their services will be terminated.
He added that the Assembly's paving crew which had been working around Scarborough will be doing some works in the districts as well.
Windward Tobago will greatly benefit from the works to be carried out. Sandy said the scope of road works by the Development Programme will include not only construction of retaining walls but widening of some areas of main roads to accommodate two vehicles. He also announced at the post-Executive Council media briefing on Wednesday (7th September, 2011) that other works to be conducted included the installation of a major underground 7-foot wide culvert at the Delaford Community Centre to prevent flooding.
Workers in the Development and Unemployment Relief programmes received some good news from Sandy who said the programme will not be closed for December, as was customary. He said "we intend to go straight ahead because it's a problem when we stop to mobilise to come back to jump start the work, so a decision was taken and discussions were being held with the Executive Council."
Sandy also sent out an appeal to persons who make entrances on to the Claude Noel Highway to develop businesses. It was reported that in some cases persons have destroyed existing road infrastructure to do so.
He told the public that entrances made on to the highway create problems. "If you need an entrance to your land come in and see the Secretary or the Administrator and we will discuss it and if it is not going to be a problem we will create the entrance for you," Sandy said