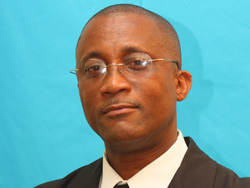 The Tobago House of Assembly (THA) plans to spend an estimated $140 million in a new housing thrust schedule to start in March, Settlements and Labour Secretary Godwin Adams revealed on Wednesday.
He told the weekly post Executive Council media briefing that the Assembly has already signed a Memoranda of Understanding with the State-owned Housing Development Corporation (HDC) and the National Maintenance and Security Company Limited (MTS) to project manage the programme.
He said construction of 239 housing units will begin in March at Adventure Phase II in Plymouth and will be project managed by the HDC. This will include Town Houses, Duplexes, Apartment Buildings and some single units. This phase is broken down into three packages and will take 24 to 30 months to be completed. He said the HDC has assured that the first 60 units will be ready for occupancy by the end of this year.
Adams also disclosed that MTS will project managed the construction of 120 multi use housing units and the development of 200 service lots at the THA-acquired Courlan Estate, 50 service lots at Belle Garden Phase II and 60 service lots at Adelphi Estate, all starting in April-May with a completion date of December 2012.
In addition, Adams said, conceptual plans were being done to develop service lots at Friendship Estate. He added that over the years 20 persons would have made down payments ranging from $5,000 to $20,000 on service lots at Coral Gardens, Milford Court and Speyside and these will be distributed shortly.
Adams said the HDC was the preferred project manager based on the Assembly's experience at the housing projects at Roxborough, Blenheim, Castara and Adventure I. He said an engineering team from his Division will monitor the work of the HDC to ensure the targets were achieved at Adventure Phase II.