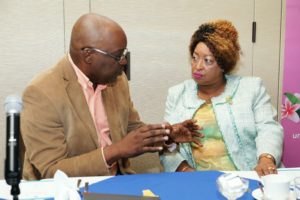 "The continuation of a mutually beneficial process".
That's how Chief Secretary Kelvin Charles is describing his meeting with tourism stakeholders last Friday (May 24).
"Breakfast with the Chief" was held at Mount Irvine Bay Resort, and opened dialogue between the THA and Tobago's tourism industry leaders.
The discussion was led by Charles, Secretary of Tourism, Culture and Transportation Nadine Stewart-Phillips and CEO of the Tobago Tourism Agency Limited Louis Lewis.
The meeting enabled tourism stakeholders to make suggestions on charting a way forward.
"At the end of the day," Charles said, "the THA alone cannot effect change. We must all do our individual and collective parts to strengthen our tourism sector."
Discussions included reef tour operations at Store Bay, improving standards of operations and vendor online presence for the destination wedding market in Tobago, and revisiting the criteria for small-tourism properties to access the Enterprise Development Fund.