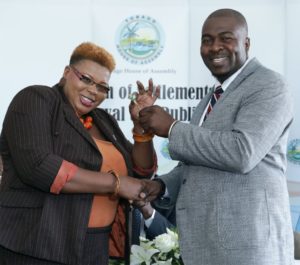 Four Tobago residents received new homes at the Heights of Blenheim.
Patrice Harris, Arlene Job-Thomas, Makeda O'Neil and Kevern Phillips received their keys at a ceremony at Blenheim last Tuesday (January 29).
The houses were constructed by local contractors, and managed by the Project Execution Unit of the Division of Settlements, Urban Renewal and Public Utilities. This included design, planning, procurement process, monitoring and project management services. In all, the works cost $2,850,162.96.
The Department of Settlements is the arm of the THA responsible for providing affordable housing for Tobagonians and the administration of home improvement grant and subsidy programmes.
The Department seeks to provide safe and affordable housing through the construction of single family and multi-family units and the provision of service lots. It also assists landowners by providing down-payment assistance and technical assistance to facilitate housing construction.